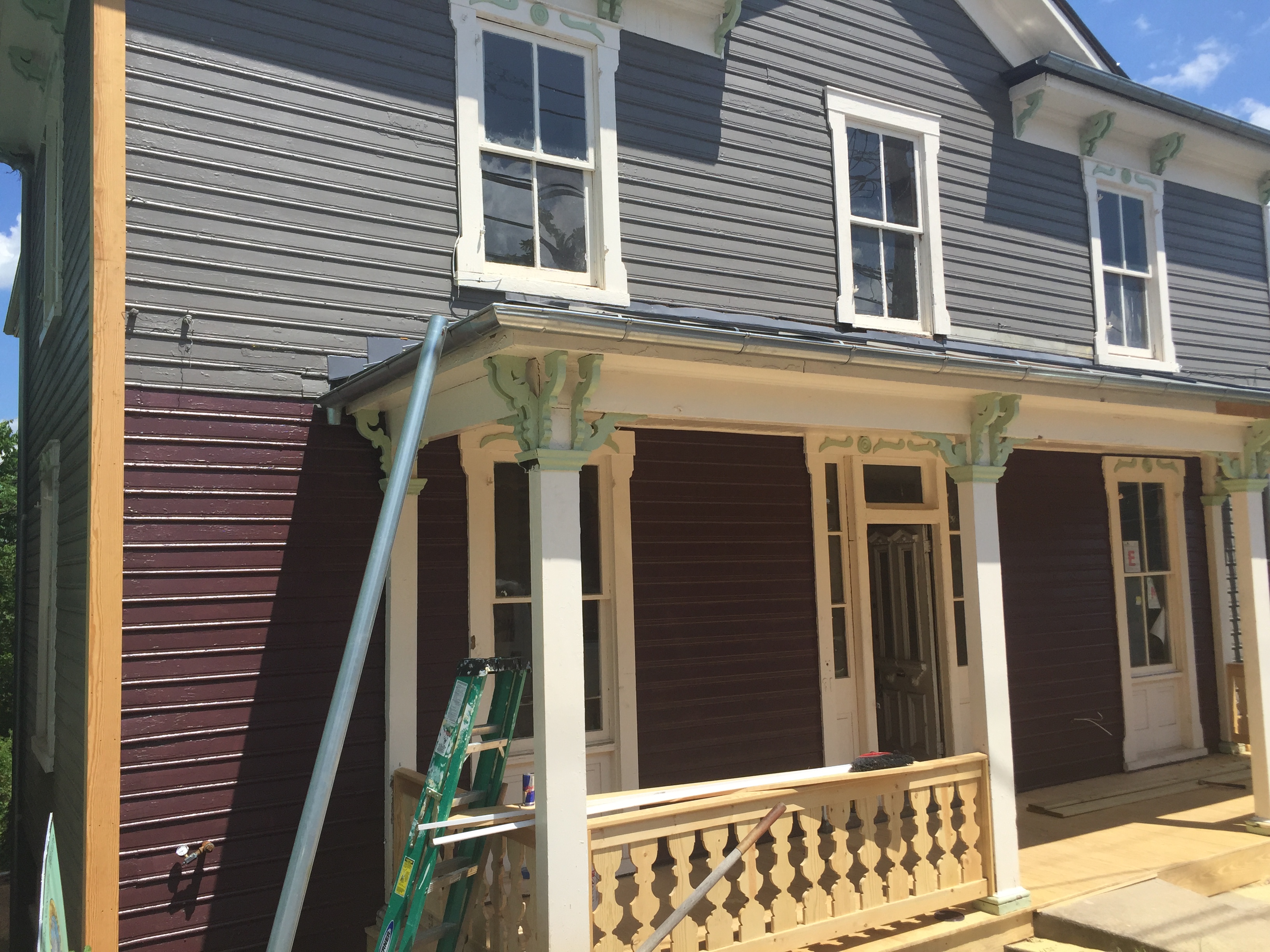 I have a love for old houses, an affinity if you will, so when Shannon asked me if I wanted to paint the interior of 31 South Coalter Street this summer, I was super excited about getting to spend time in this house and be a part of bringing this home back to life. There is something about an old home that just speaks to me, touches me actually as I see them as the caretakers of generations past, keepers of history and real, live vestiges of a long ago tradesman's handiwork.
Knowing that I would be a part of rehabing this beautiful home, I wanted to learn more about it. The Historic Staunton Foundation (http://historicstaunton.org/) was a huge help in providing me with some information about the house and the area it is located as well.
A late nineteeth century Vernacular Frame home, 31 South Coalter St does not appear on Staunton maps before 1886. As it appears on maps in 1891, it is believed to have been built between 1886-1891.
According to Wikipedia, "Vernacular architecture is a category of architecture based on local needs, construction materials and reflecting local traditions. At least originally, vernacular architecture did not use formally-schooled architects, but relied on the design skills and tradition of local builders." I love this house even more knowing that it had a humble beginning.
When surveyed by the historic foundation in 1976, it was said to have corbelled (arched) chimneys, decorated architraves and an entry door with transom and sidelights. The original transom remains with the home today and is beautiful. Major alterations noted were the addition of the front porch between 1891-1894 with millwork. I believe some of that original millwork remains today and will be replicated to maintain the historic integrity of the home.
31 South Coalter is located in the Gospel Hill Historic district, a residential neighborhood with great historical and architectural significance. Within the district's boundaries are located the site where Staunton was founded by Sir William Beverley, the birthplace of President Woodrow Wilson and the homes of many prominent Virginians whose contributions ran the gamut of local, state and national levels.
Architecturally, the district represents a diversity of building styles from the sophisticated and elaborate late nineteenth century residences built during Staunton's "boom years," to the modest, simple vernacular structures.
31 South Coalter St represents one of the modest, simple vernacular structures which are common near the southwest boundaries of the district, the presence of which aids in keeping the district remarkably free of contemporary structures and non-conforming intrusions. Neighborhoods like this are why I love this city!
I can't wait to hang out in this house over the summer and truly wish walls could talk. 31 South Coalter Street will be available for it's next life sometime mid-fall 2016.
– Morgan